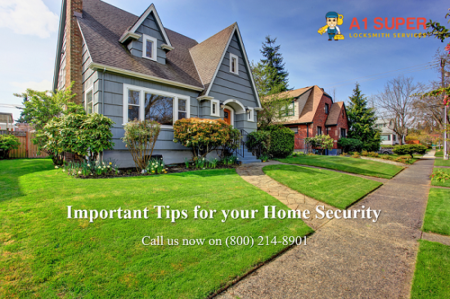 Have you just shifted to your new home? In this blog, we will share tips for your home security. If you plan to take an extended vacation, leaving your home under lock and key, you will realize how important it is to keep it safe and secure.
You may have valuables at your home, and unless your home is fully secured, you will always be worried about their safety.
So, to have complete mental peace, we can understand that your home security is a top priority for you and in order to do so we are sharing some amazing tips for your Home Security.
The following are some essential tips for your Home Security that would help with your cause:
Evaluating the age and function of your external door locks~
When it comes to theft, one of the easiest ways for the burglar to sneak into your home is through a locked door that has become old and does not function properly.
It is because of this that you need to check that proper monitoring of all of your external door locks is done.
If you find that they have gone through significant wear and tear, you must ensure that they are replaced with highly secure door locks before you leave town.
In case you are based in Rockville, MD, you need to find out reliable lock replacement services in Rockville that can do an excellent job with it.
 Locating your spare keys~
Another essential step to ensure your home security is locating your spare keys.
If you are unable to locate them, instead of just availing of the lock rekeying services near me in Rockville, it is better that you have the locks replaced for better protection.
The reason is that the spare keys could be located by miscreants who could use them to break in. To do away with this risk, it is better to have the locks replaced.
Windows are a convenient point of home entry~
Using the Tips for your Home security you can prevent your home from burglary. It is seen that burglars often use accessible windows to break in. It is more so in case it is on the ground floor.
Thus, you must keep this critical point in mind and take all adequate steps to ensure that the windows of your home are not used as a convenient entry point.
It is because of this reason, you need highly secure locks are used to prevent any thefts.
Changing Security Codes before leaving home~
Are you using an electronic lock that has codes attached to it? In such cases, you must ensure that you change the codes of your keypad before you head out of town.
It is seen that sometimes the codes are shared with neighbors and friends. By doing this, your home might become vulnerable.
To ensure better safety, therefore, always change the security codes from time to time and especially when you leave town.
Avoid posting detailed Social Media Posts~
We live in the age of social media. At times we might get over-enthusiastic about sharing details of our location and travel plans.
It would help if you were cautious, for these detailed social media posts could be misused by burglars for theft and other purposes. Therefore, it is best to avoid these detailed social media posts.
If you want to know more on tips for your Home Security or you want a thorough check on your home security and want to get help from an expert professional locksmith, please do not hesitate to call us at +1 (800) 214-8901.
Final Words by A1 Super Locksmith~
People find vehicle issues unpleasant and stressful.
Therefore, to save you from those situations, we have presented essential tips for your Home Security with the most efficient and quick Automotive Locksmith Service that likes to help people with complex problems.

We provide a unique locking system that prevents intruders and burglars from improving your home and vehicle's safety and security.
To know more, you can explore our website.
Also, you can call us 24/7 to resolve any query related to the Automotive Locksmith Service!