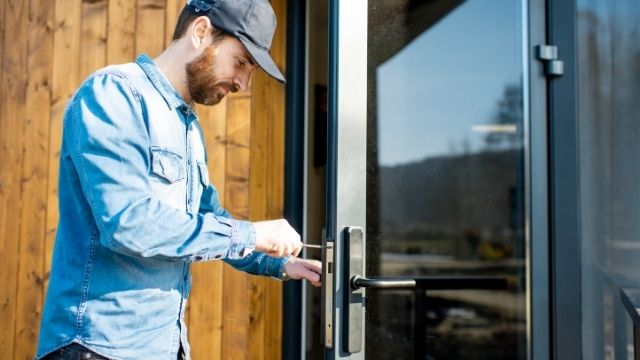 Conventional sliding glass doors are practical and usually offer one fixed panel and one panel that opens to the outdoors. They allow the beauty and elegance of the natural landscape to be experienced without revealing a home to the elements. Unfortunately, they present some security challenges.
Thus, deciding how to secure sliding glass doors is necessary for safe enjoyment.
The following are common types of locks for securing sliding glass doors.
1) Sliding door frame security hardware 
A jimmy plate can be found at most hardware shops. It's a flat metal plate placed over the sliding door frame. The plate blocks the door and keeps intruders from interfering, and removes the door from its position on the edge.
2) Add window film
Sliding glass doors are super scalable. To deter burglars, we suggest applying a window film. This polyethene coating keeps a shattered sliding glass door from falling apart, making it more difficult for intruders to enter.
3) Add a rod to the tracks
Some sliding glass doors come with a metal rod for added additional security. If your sliding door already has this feature, use it. It helps reinforce the door against unwanted entry of outsiders.
4) Security bars 
You can buy strong security metal bars that fold and support the door to lock it into place. You can also cut a rod or piece of wood to place in the door track when it's closed.
5) Invest in a home security system with cameras, alarms, sensors, monitoring, and more
Whether self-monitored with an app and a smartphone or monitored by a camera, a home security system can maintain the physical security you've already added to your door.
Cameras will provide a warning that someone is coming in proximity to your home, and they potentially may ward off would-be intruders by letting them know that someone is watching.
In addition, cameras may help identify the burglar and help you reclaim stolen items if a break-in does occur.
6) Install a better lock
Consider removing the basic latching system and installing a keyed lock to the door. Another option is to install a sliding door lock that is specially designed to secure the entrance to the door jamb.
Finally, consider replacing a conventional slider with an engineered alternative with more excellent security options.
7) Glass-break detectors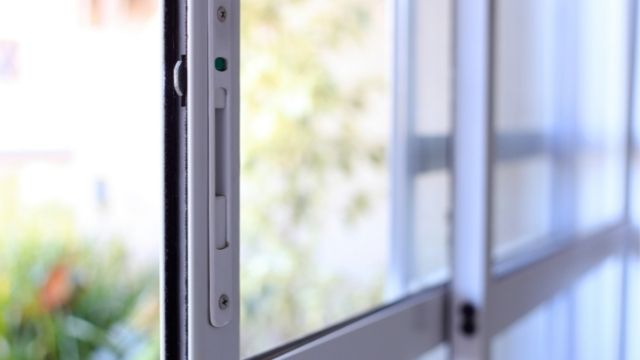 Like a door sensor, glass-break detectors will sound when glass is broken. But, again, the alarm sounding afterward may be enough to ward off a burglar.
Final words
Deciding how to secure sliding glass walls from intruders is essential for the safe enjoyment of these beautiful household features. Thankfully, there are many quick and easy locks for securing sliding glass doors to keep a home safe.
We provide a unique locking system that prevents intruders and burglars from improving your home or vehicle's safety and security.

If you are considering sliding door locks for a home, let A1 Super Locksmith be the number one choice. A1 Super Locksmith's locks are tested and installed with all safety features to keep a home safe.
Also, you can call us 24/7 and get the Professional Locksmith Services in town!